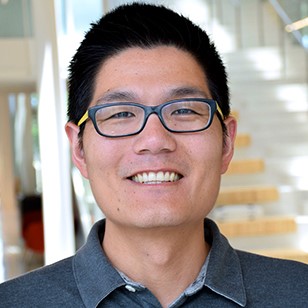 Patrick C Shih
Assistant Professor of Informatics
Education
Ph.D. in Information and Computer Science at University of California, Irvine, 2011
M.S. in Information Networking at Carnegie Mellon University, 2005
B.S. in Computer Science and Engineering at University of California, Los Angeles, 2003
Courses Taught at SICE
CSCI P535 Pervasive Computing
ILS Z516 Human-Computer Interaction
ILS Z604 Social Computing and Computer-Supported Cooperative Work
INFO I413 & I513 Usable Artificial Intelligence
INFO I414/I514 Seminar in Animal-Computer Interaction
INFO I527 Mobile and Pervasive Design
UNIV 184 Bridge to Informatics (DePauw University)
Biography
Dr. Shih is an Assistant Professor of Informatics in the Luddy School of Informatics, Computing, and Engineering at Indiana University Bloomington. He directs the Societal Computing Lab (SoCo Lab). He's a core faculty of the Health Informatics track, and he's also the Co-Director of the Animal Informatics PhD track and the Animal-Computer Interaction PhD Minor, MS Specialization, BS Minor, and BS Cognate programs. His research focuses on the study of sociotechnical systems and mechanisms to support health and wellbeing and reduce health disparity of marginalized and underserved populations in rural areas. Specifically, his lab designs, prototypes, and deploys novel personal health informatics devices, interfaces, and platforms to support people with physical, developmental, and mental conditions. He also designs technologies to amplify human and animal capabilities in animal-assisted interventions and to improve animal welfare. The populations that Dr. Shih is actively studying include people living with HIV, adults with ASD, veterans with PTSD, and people with substance abuse.
Dr. Shih is an affiliated faculty of the Center for the Integrative Study of Animal Behavior (CISAB), the Indiana University Network Science Institute (IUNI), the Institute of Digital Arts and Humanities (IDAH), the Center for Computer-Mediated Communication (CCMC), the Center of Excellence for Women in Technology (CEWiT), and the Institute for Software Research (ISR) at the University of California, Irvine.
Prior to joining IUB, Dr. Shih was a Research Associate and Lecturer in the College of Information Sciences and Technology at Penn State. He received his Ph.D. in Information and Computer Science from UC Irvine, where he was a Chancellor's Fellow, M.S. in Information Networking from Carnegie Mellon University, and B.S. in Computer Science and Engineering from UCLA. He has also worked at Microsoft Research and IBM Research.
Research Areas
Data Science
Proactive Health Informatics
Sustainability and Technology
Animal Informatics
Animal-Computer Interaction
Centers