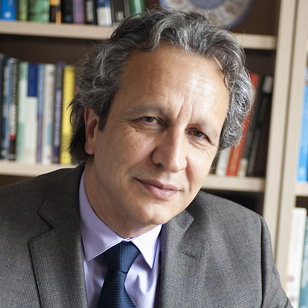 Hamid R Ekbia
Professor of Informatics, Cognitive Science, and International Studies
Director, Center for Research on Mediated Interaction
Computing Culture and Society Track Director
Email:
hekbia@indiana.edu
Phone:
(812) 855-3251
Office:
Myles Brand Hall | Room: 229
Website:
https://www.forabetterfuture.org
Education
Ph.D. in Computer/Cognitive Science at Indiana University, 2003
M.Sc. in Electrical Engineering/Applied Plasma Physics at UCLA, 1979
B.Sc. in Electrical Engineering at Abadan Institute of Technology, 1977
Courses Taught at Luddy
Biography
I was born in Mashhad, the capital city of Khorasan - an ancient province of Iran and the birthplace of great poets Ferdowsi (935-1020 AD), Omar Khayyam (1048-1131 AD), and Akhavan Sales (1928-1990 AD). I studied engineering at Abadan Institute of Technology and UCLA, and, later, Computer Science and Cognitive Science in Indiana University, where I became a fargonaut at the Center for Research on Concepts and Cognition(CRCC). After teaching at IU's School of Informatics and the University of Redlands for a few years, I am back in beautiful Bloomington with SICE.
Other Research Areas
Sustainability and Technology
Computing, Culture, and Society
Human Computer Interaction and Design
Centers