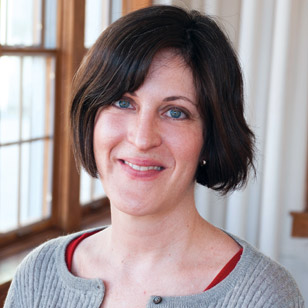 Selma Šabanović
Selma Šabanović, an associate professor of informatics and the assistant dean for graduate education at the School of Informatics, Computing, and Engineering, has been awarded a grant from the National Science Foundation worth more than $640,000 to study methods to improve socially assistive robots to support mental health services in clinics and in patient homes.
The project, part of a collaboration between Indiana University and researchers at Mississippi State University, aims to address the challenge of developing useful robots for use in homes by involving users in the actual design through participatory design methods. The methods will be used to address the social meaning, fit, effects, and institutional support robots and their users need to successfully implement robots in real-world healthcare contexts.
"Through this grant, we will also have the opportunity to work closely with clinicians and adults with depression to discuss their needs and develop robotic technologies that fit their values and goals, which I hope will have measurable long-term benefits to therapeutic care and individuals participating in our research," Šabanović said. "I hope this will also have a transformative effect on how we design robotic technologies and the way in which we include different voices in decision-making in the technology design process."
Šabanović has long studied the use of robotics in eldercare and nursing homes, having worked in the domain of social assistive robotics since 2009. Her previous work with Paro, a seal-like companion robot that fosters pet-type interactions, studied how aging users could benefit from the comfort provided by a pet without the challenge of taking care of a living creature. That research led to Šabanović becoming interested in how the technologies could be designed effectively for use in a home, particularly in how robots could be adapted to particular individuals who are receiving care. The project will leverage the previous development of Therabot, a robot modeled after a beagle puppy.
"The study has several interconnected aims," Sabanovic said. "One is to work with clinicians and adults diagnosed with chronic depression to understand their needs, explain the capabilities of current robotic technologies, and together define design features that can address the therapeutic needs of adults with depression, which can be incorporated into ongoing care through use in the home and clinic. This will feed into our second aim to develop adaptable interactive robotic technology that can, through hardware (e.g. the inclusion of different sensors, various appearances) and software design (e.g. interactive behavior, learning user preferences), be tailored both through initial design and in real time to diverse user needs and preferences and to different home contexts. I also hope this project helps us create assistive robotic technology that can be effectively used in the home, and also help support the mental healthcare needs of diverse individuals."
Šabanović also believes the work will help honor the memory of a former colleague.
"Getting this award is made even more meaningful for me because I feel like it's an extension of work I started with Professor David Hakken, who first introduced me to the ideas and practice of participatory design," Sabanovic said. "David passed away a few years ago, so continuing to work on these topics feels like a continuation of his work and writing, and his hopes for a more participatory future for technology design." Šabanović, School of Public Health Associate Professor Jennifer Piatt, and Mississippi State Professor of Computer Science Cindy Bethel will lead the effort.
"This grant is the perfect blend of innovation and outside-the-box thinking that is at the heart of everything we do at SICE," said Raj Acharya, dean of SICE. "Using technology, such as a robotic dog, to try to improve the lives of those battling depression and other issues provides a fantastic opportunity for collaboration that will make a real impact on lives. Selma's work is critical, and this grant is tangible proof of our leadership in the field."