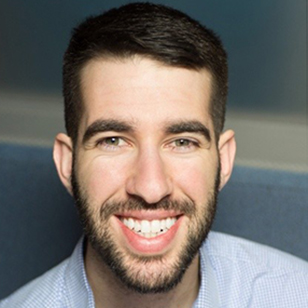 Adam Sobol
CareBand, which was founded by Luddy School of Informatics, Computing, and Engineering graduate Adam Sobol, has announced it will be part of a pilot program with Amazon Sidewalk to help empower seniors living with dementia.
CareBand is a wearable device that provides indoor and outdoor location tracking, activity monitoring, and other services for older adults. Amazon Sidewalk is a low-bandwidth network that uses Bluetooth, 900 MHz long-range spectrum, and other frequencies to allow devices to operate even when out of range of home Wi-Fi networks. The pilot program will allow CareBand to explore how its devices can best use Sidewalk to help older adults.
"When Amazon Sidewalk launched in December 2020, I was very interested in its potential," Sobol said. "I reached out to their team and organized a call. After our first conversation, it was clear that we were both aligned in the mission of keeping people and neighborhoods safe. This relationship allows CareBand to reach people who are living—and want to remain living—at home."
CareBand was a winner of the 2015-16 Building Entrepreneurs in Software and Technology (BEST) Competition, which was held annually by the Luddy School. The Chicago-based company has continued to expand and now offers four models of its wearable device. Amazon Sidewalk could allow CareBand to extend the usefulness of the devices outside the home.
"Until now, there hasn't been the right infrastructure to reach this consumer," Sobol said. "With Sidewalk, CareBand can transmit data on this network without requiring older adults to have a smartphone or Wi-Fi. It really opens the potential of aging in place for 5 million older adults with dementia."
In announcing the pilot program with CareBand, Amazon Sidewalk also announced support for Tile devices that help users find lost items and Level smart locks. Sidewalk will expand by using compatible Echo and Ring devices to extend the network.
Dr. Travis J. Brown, Senior Executive Assistant Dean for Innovation, Entrepreneurship, and Commercialization, directed the BEST Competition and has continued to work with Sobol through his leadership of the Luddy School's Innovation and Entrepreneurship program and the Shoemaker Innovation Center.
"Entrepreneurship is about self-discovery, both through developing your tenacity and empathy, as well as through strengthening your resolve to invoke meaningful change," Brown said. "Adam serves as a testament to the importance of supporting students' innovative and entrepreneurial endeavors in higher education. I am not only proud of Adam and what he has accomplished as an entrepreneur, but, more generally, I am proud of his resourcefulness in respect to his engagement with Indiana University while a student and beyond graduation."
Amazon Sidewalk will launch its expansion June 8.